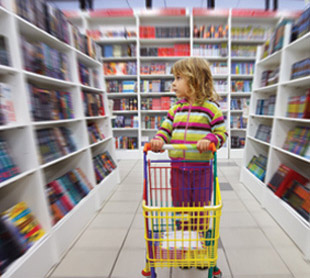 Q&A Media Resources is a value-added sales and marketing organization committed to bringing fact-based merchandise and marketing opportunities to our manufacturers and customers. Our expert representation of products and services will grow your brand with speed to market, cost effectiveness and high profitability that will exceed sales goals.
Our nationwide coverage of every major retail channel will provide you access to club stores, convenience stores, department stores, drug stores, grocery stores, specialty stores, mass merchandisers, online retailers, and book specialty retailers.
Management Team
Sharon Hails
As a founding member of Q&A Media Resources, with over 30 years of experience and an immense passion for books, Sharon Hails has been a leader and innovator in the retail and wholesale sectors of the publishing community. Having held key executive management positions in a broad range of companies such as Waldenbooks, Harlequin, Sher Distributing, Associated Media Services and, most recently The News Group, her vast knowledge and talent is unparalleled.
In a long and distinguished career her direct and varied responsibilities include management of over 140 staff, vendor relations, budgeting, inventory management, negotiation of marketing funds, incentive rebates and purchasing in excess of $2.2 billion dollars with a distribution to over 11,000 retail locations. As President of Direct Distribution, Sharon took it from its inception to a fully operative, full service distribution company, shipping approximately 1,000,000 units per week, with gross billing of over $320 million per year.
As partner and Chief Operating Officer of Associated Media Services, Sharon developed and led her team in the first successful outsource service to manage the book and magazine promotions of nontraditional booksellers representing a significant number of retailers including Kmart, CVS and Rite Aid. Developing new and creative programs, systems and processes designed to save time, build sales and increase profitability, have all driven her in her unwavering commitment to the book category and her vision for Q&A Media Resources.
Cindy Lawrence
As a client development professional with more than 25 years of experience, Cindy Lawrence, (a Q&A Media Resources founding member), is well-known among her colleagues for successfully generating revenue in competitive markets across various industry lines.
As CEO and President of Arista Executive Placement with a client base consisting mainly of Fortune 500 Companies, such as: Citicorp, Hess Corporation, Campbell's Soup, Lenox China, etc., Cindy led 40 recruiting professionals in three locations with direct responsibility for five divisions including: Technical, Medical, Management, Engineering and Support Staff.
A consummate professional, Cindy brings with her the unique ability to understand clients' current and future needs and anticipate their customers' demands. Having developed and implemented strategic client relationship management programs, increasing her clients' overall sales by as much as 40%, she has the background and expertise to grasp highly technical product information and convey it clearly to maximize her clients' potential and realize their business goals.
Marcia Roney (Retired)
Marcia Roney's career includes more than twenty-five years of experience in the retail, trade, and wholesale publishing sectors of the book industry. As one of the Q&A founding members, she brings with her industry knowledge from senior management positions at Associated Media Services, Waldenbooks, Pocket Books and Herman & Rosner Advertising. Marcia's focus and acute ability to identify client needs have enabled her to excel in all aspects of client service including: market analysis, management of co-operative advertising budgets, and development of promotional programs for non-traditional retail accounts such as CVS, Rite Aid, and Kmart.
As Senior Vice President at Associated Media Services, Marcia was directly responsible for the increase of annual promotional revenues from $1 million to $3 million and negotiated payment of over $1 million of lost revenue for a single retail account. Most recently, Marcia held the position of Director of Book Marketing for The News Group, U.S, where she developed, managed, and maintained the advertising and promotional calendars for various national retail accounts. Marcia was responsible for implementing numerous cost-saving measures relating to the coordination of advertising and marketing programs throughout the many divisions of The News Group.